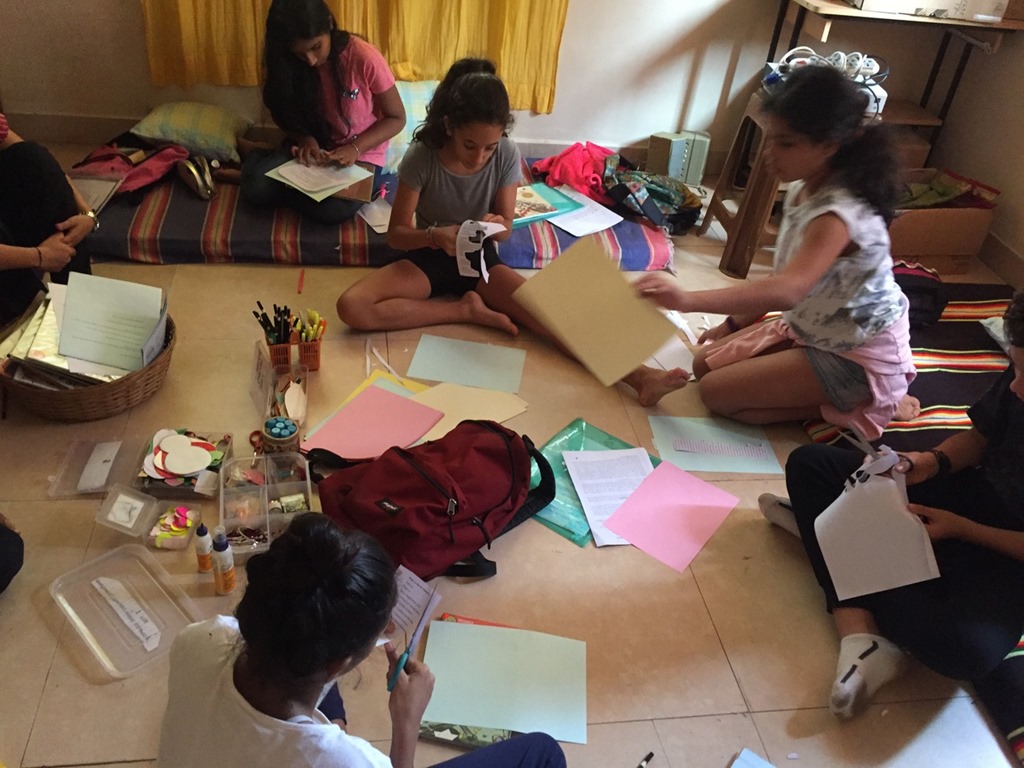 Activities
This year I have the joy of teaching a small group of young adults at the library. A group of five middle schoolers who are on the threshold of being swept into the undercurrent of literature and life. Being a group in an open program with an open educator, we have the freedom to choose our focus area and after some kicking around on the library floor, I settled on the theme of memoirs. The reason for this choice came, as it must from the group itself.
Our previous sessions indicated that writing is a potential area of growth, similarly listening to each other and the need to focus on craft over story plot would allow the windows into good writing to emerge and define selection in the years to come. The teaching of writing is not just to foster expression, but it is also to open the mind to the craft of the act of writing. When we discover how good writers use their writing voices, we enter into the world of literature through another window, one that stays open for the rest of our lives. So I was keen to become that window – opener for this group.
There are mighty challenges for a design of content without a prescribed framework. More hours of research, more self reading, more reflection. But in my teaching I am ably assisted, supported and held up by Anandita and Shraddha who work at Bookworm and so together I felt much was possible.
The group comes together twice a week for two hour sessions and this pattern and time frame allows us to explore deeply, to warm up and cool down and also to get to know each other. Yesterday was pivotal in our relationship because I was referred to as 'annoying'. I delighted. I know that after this our learning is going to become more real. Less about making Sujata happy and agreeing with her and more about thinking for ourselves and feeling confident to speak out.
The power that a facilitator/ teacher/ educator wields over any group bears reflection. This group of children for all purposes is privileged, high on cultural exposure, deeply and intensely loved. They appear to speak out and share honestly and demonstrate keen ideas around politics, society, self and more. And yet they have been under my 'spell' for a while now. I recognise that in that cocoon I could have been weak, easy going, less prepared, frivolous, partial and it would have not mattered. It bears commenting that the parent group trust me with their children, so the burden on my planning and execution mind has been enormous.
We are only half way into this unit but I feel compelled to document some of our experiences here.
Being a unit on Memoirs within the library, it began with books. Being a group that needs to be nurtured to the non popular segment of reading and with varied levels of independent reading, we began with Picture Books. Patricia Pollacco rules this personal narrative style and our collection of her books ( augmented generously by Roshni Soonawala) have been explored by the group. For more on our picture book list around the theme of Memoirs, click here.
Junkyard Wonders and My Rotten Red Headed Older Brother, kind of ruled over some of the others, with the Keeping Quilt being inexplicable to one reader. What I hope resonated with this set of texts was that the style of the memoir begins with remembering something.
William Carlos Williams said "Say it, no ideas but in things" and we are trying to elicit memories to build our craft of writing from this mode. So Shraddha and Anandita played the memory trigger game, laying out things and asking each one in the room to think if these evoked a memory.
The memories evoked ranged from relationships with Harry Potter triggered by a paintbrush to a lost ball on the street and the joy of finding it much later and such.
Implicitly I am hoping to move the group's writing to what Nancy Atwell urges us to do in the teaching of writing. "Don't write about a general idea or topic; write about a specific, observable person, place, occasion, time, object, animal, or experience. Its essence will lie in the sensory images the writer evokes: observed details of sight, sound, smell, touch, taste; and strong verbs that bring the details to life. "
To augment this rule and really understand it, we are also reading simultaneously and discussing the craft of writers. So, we have been thinking of how a writer approaches something personal but powerful and we read an essay titled 'Why Couldn't I Have Been Named Ashley' by Imma Achilike. This allowed us to reflect and think about our own names. The group proceeded to do some research on their names, to have a conversation at home about the names they were named and write this down in a reflective piece.
We use Spoken Word Poetry in our class to good effect, because multi modal approaches with Gen Z is in the rule book of the 21st Century teacher. I find that if I use at least three approaches to an idea within a session one of them sticks and penetrates and my objective is met. We are also slowly working on stitching our names so that we have moments to focus on the specific. Given this planning, it seemed natural to draw in diverse texts but what I tend to forget and is perhaps my hard learning is that the group have truly multi-cultural experiences and childhoods and I need to find texts that resonate with them all.
This was brought home to us in the rather failed attempt of using Stitching Stories by Nina Sabnani in film and print form as a good example of personal narrative. The theme of refugees, the context of the partition and the displacement from an earthquake that leads to a birth of an art form did not come through and we need to examine where we failed so that we can do this better the next time. I realise that links and cross connections in my head need not connect with others as easily as they appear to me.
However, using poetry in the classroom is working well along with the theme of memory and memoir writing. We are building on the ever popular 6 Word Memoir plan made global by Smith Magazine. The group have watched short videos of entire classrooms share their 6 Word Memoirs and we have begun to think this is a possibility for us.
We had our first mini lesson on this yesterday and in our planning, Anandita reminded me about the joy of collaborative teaching. As we were prepping for the plan last week, she picked up the idea of the pebble as a concrete symbol to mark a word and so our group will paint out their 6 word memoirs on pebbles and strengthen the connection between reading – writing – thinking – sharing.
Poetry, reading, reflection and writing have also been strong components of our class. It has allowed me the almost – indulgence of spending vast swathes of time reading poetry to find the right selection for the group. We have explored the work of Literacy Coach Linda Baei and her student's poetry and been introduced to Gary Soto through his poem Oranges. After reading and selecting poetry texts that resonated with each person, I asked them to illustrate the poem to enable them to go deeper into the text. Some of them did this powerfully indicating that there are multiple forms of expression and resonance and this affirms our ideas and teaching.
We stretched the Portrait Poetry form further and now original poetry from each child adorns one of the notice boards at the library. The group are working slowly towards their handwriting formation, punctuation and spelling in meaningful ways and it is a joy to experience this growth in them all.
In continuation of our theme of memoir as a craft and form we have been writing, reading, creating and listening and as I look forward to the next few weeks of developing these ideas more fully, I delight at some of the texts that will unfold. We will be exploring Jon Scieska's Knucklehead, The Red Scarf Girl by Ji Ling Hang, Brown Girl Dreaming by Jacqueline Woodson, The Wall by Peter Sis and A Gift from Childhood: Memories of an African Boyhood by Baba Wague Diakite. I have also lined up as a special treat the short film Memoir by DUST because I want to introduce the group to the idea of sci – fi as a form but nestled within memory.
The possibilities are endless, the material available to us in the library is so rich and vast, and the blessing of having this opportunity momentous. If you would like to join our classes sometimes, please call Bookworm Library and come, read with us!