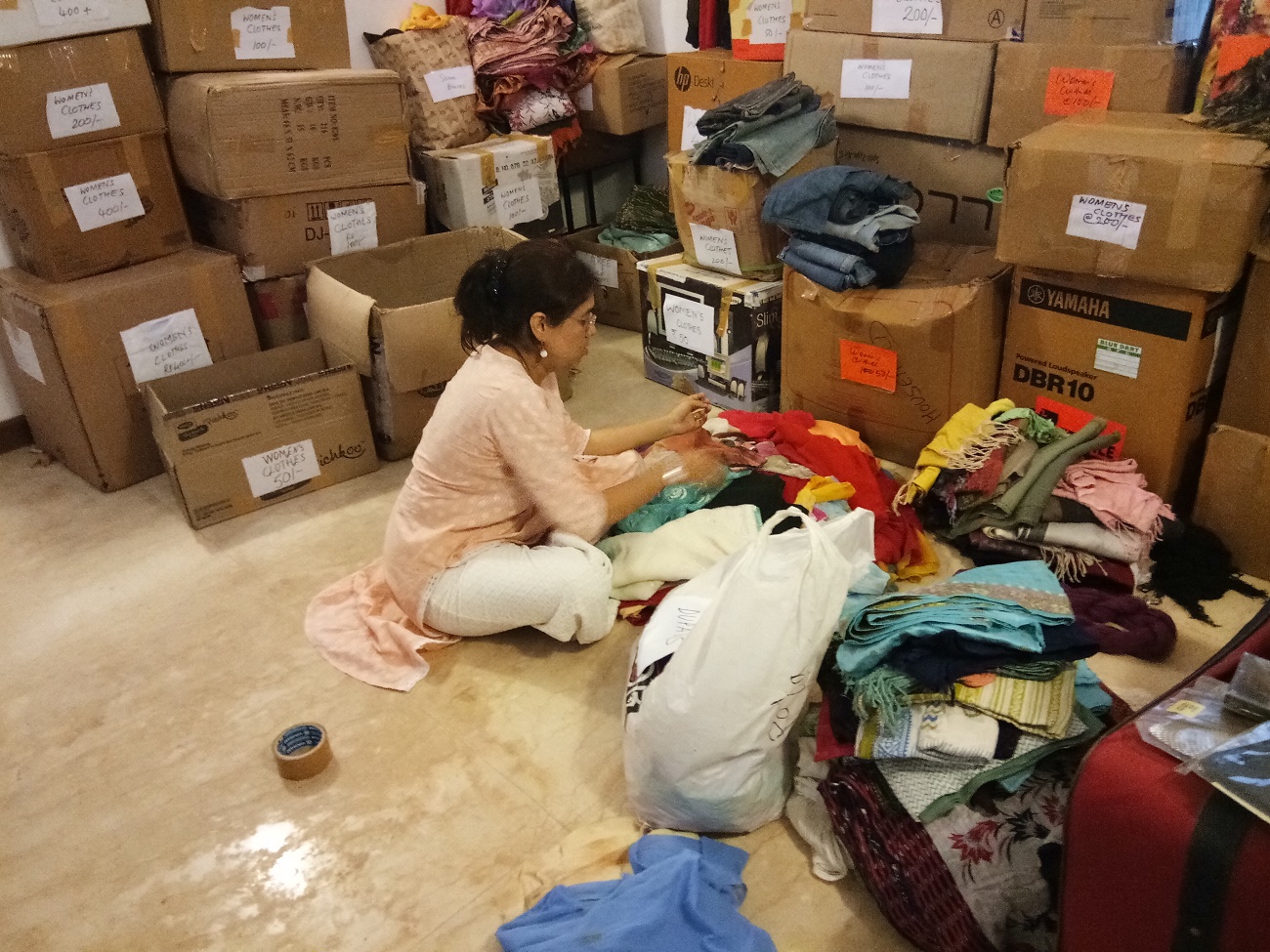 Libraries in Schools
The concept of the Jumble Sale was new to me till I joined Bookworm. The idea that we could ask people to donate their junk, their discards, and that we could sell it to raise funds was very novel for me. In 2014, when I joined Bookworm, I was overwhelmed by all the work that this involved.
I was given the responsibility of managing the jewellery and accessories. Since I was not able to come to the Library to sort out the jumble donations, I would carry bagfuls home –  earrings, bracelets, bangles, neck-pieces, cosmetics and perfumes. Some large-hearted donors give very expensive perfumes. Since I had only heard of these brand names but was unaware of their prices, I would go on to Google to find out what it would cost in Indian rupees and accordingly do the pricing so that I was not underpricing any bottle. This section earns quite a bit of funds for us. There are six gentlemen who come every year, first thing in the morning, who buy our perfumes and contribute hugely to our fund-raising.
It is now established that the Jumble sale takes place on the first Sunday of February. We usually start sending out information from November. This year, we decided not to announce it till we get a space to sort out all that we collect. Jewel and I were horrified as November passed. Then as always, one of our earliest supporters, found a house for us in Miramar, right in the centre of the city. Jewel and I floated behind Sujata on our first visit to the house. It is fabulous, on the lake. The house brought joy and hope to us and with full horsepower, we started the Jumble promotions. Although it was still only mid-December, we were worried that it was too late. We hoped that the festival spirit will encourage people to throw out their old stuff (to us) and buy new stuff.
Initially, we were very nervous about whether we would meet our target of Rs.10 lakhs for this year's sale. The beautiful house remained pristine with very little jumble coming in. However, now the pace has picked up and the place has been delightfully messed up with the many contributions. I feel very happy to come and sit in this mess and help sort it out.
The Bookworm team has been coming in during the afternoon as per a rota, to sort out clothes, bags, toys, shoes, books, household, electricals etc., each of which is given a separate room. Once sorted, it is put into cartons with a price tag for the carton as a whole.
While initially I was worried if we would get enough Jumble, now I am wondering if we will manage to sort out and price all that we receive. I guess I will worry at every step till the Jumble is over! (And then I will worry about whether we are spending the funds judiciously! Ah well!)
I think about what all will be done with the money raised through the Jumble. The first thing that we are looking for is a van for the Mobile Outreach Programme (MOP). It should be big enough to carry a team of 4 (plus the driver) with a mobile library and resource material to various sites around Panjim on a daily basis. Then the funds will be used to run the five sites that we currently operate the Outreach Programme.
Funds raised through the Jumble will also go to maintain and run the library at Taleigao which is the heart and soul of Bookworm.
Our Libraries in School Program (LiS receives funding from the Cipla Foundation (Five schools) and the Alban Couto Library Program (Three schools). Two schools raise their own funds to cover the costs of the Library program. For the remaining three schools, Bookworm uses the funds raised from the Jumble sale.
As you can see, the Jumble Sale sustains the foundations of Bookworm each year. I hope that this year, we exceed our targets through your generosity and reach out to more children with the joy of reading!