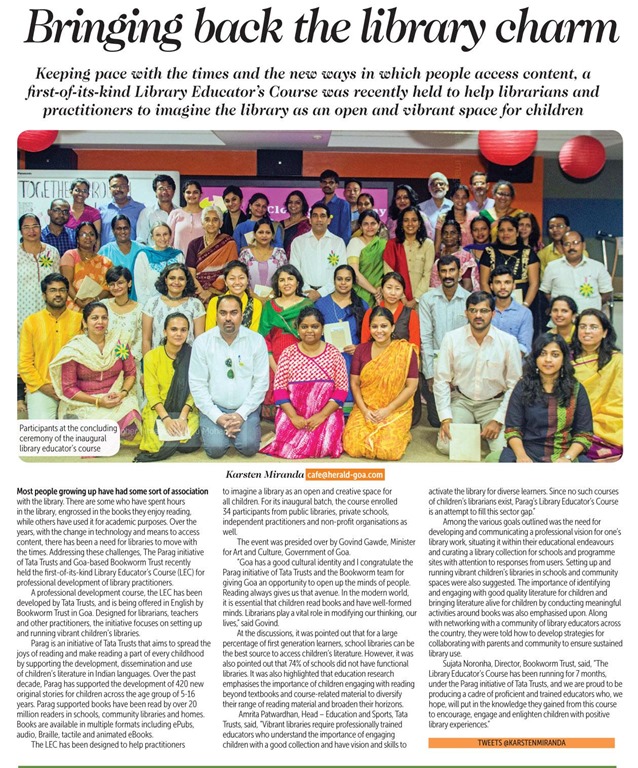 In the Press
Bringing back the library charm
Keeping pace with the times and the new ways in which people access content, a first-of-its-kind Library Educator's Course was recently held to help librarians and practitioners to imagine the library as an open and vibrant space for children
Most people growing up have had some sort of association
with the library. There are some who have spent hours in the library, engrossed in the books they enjoy reading, while others have used it for academic purposes. Over the years, with the change in technology and means to access content, there has been a need for libraries to move with the times. Addressing these challenges, The Parag initiative of Tata Trusts and Goa-based Bookworm Trust recently held the first-of-its-kind Library Educator's Course (LEC) for professional development of library practitioners.
A professional development course, the LEC has been developed by Tata Trusts, and is being offered in English by Bookworm Trust in Goa. Designed for librarians, teachers and other practitioners, the initiative focuses on setting up and running vibrant children's libraries.
Parag is an initiative of Tata Trusts that aims to spread the joys of reading and make reading a part of every childhood by supporting the development, dissemination and use of children's literature in Indian languages. Over the past decade, Parag has supported the development of 420 new original stories for children across the age group of 5-16 years. Parag supported books have been read by over 20 million readers in schools, community libraries and homes. Books are available in multiple formats including ePubs, audio, Braille, tactile and animated eBooks.
The LEC has been designed to help practitioners to imagine a library as an open and creative space for all children. For its inaugural batch, the course enrolled 34 participants from public libraries, private schools, independent practitioners and non-profit organisations as well.
The event was presided over by Govind Gawde, Minister for Art and Culture, Government of Goa.
"Goa has a good cultural identity and I congratulate the Parag initiative of Tata Trusts and the Bookworm team for giving Goa an opportunity to open up the minds of people. Reading always gives us that avenue. In the modern world, it is essential that children read books and have well-formed minds. Librarians play a vital role in modifying our thinking, our lives," said Govind.
At the discussions, it was pointed out that for a large percentage of first generation learners, school libraries can be the best source to access children's literature. However, it was also pointed out that 74% of schools did not have functional libraries. It was also highlighted that education research emphasises the importance of children engaging with reading beyond textbooks and course-related material to diversify their range of reading material and broaden their horizons.
Amrita Patwardhan, Head – Education and Sports, Tata Trusts, said, "Vibrant libraries require professionally trained educators who understand the importance of engaging children with a good collection and have vision and skills to activate the library for diverse learners. Since no such courses of children's librarians exist, Parag's Library Educator's Course is an attempt to fill this sector gap."
Among the various goals outlined was the need for developing and communicating a professional vision for one's library work, situating it within their educational endeavours and curating a library collection for schools and programme sites with attention to responses from users. Setting up and running vibrant children's libraries in schools and community spaces were also suggested. The importance of identifying and engaging with good quality literature for children and bringing literature alive for children by conducting meaningful activities around books was also emphasised upon. Along with networking with a community of library educators across the country, they were told how to develop strategies for collaborating with parents and community to ensure sustained library use.
Sujata Noronha, Director, Bookworm Trust, said, "The Library Educator's Course has been running for 7 months, under the Parag initiative of Tata Trusts, and we are proud to be producing a cadre of proficient and trained educators who, we hope, will put in the knowledge they gained from this course to encourage, engage and enlighten children with positive library experiences."