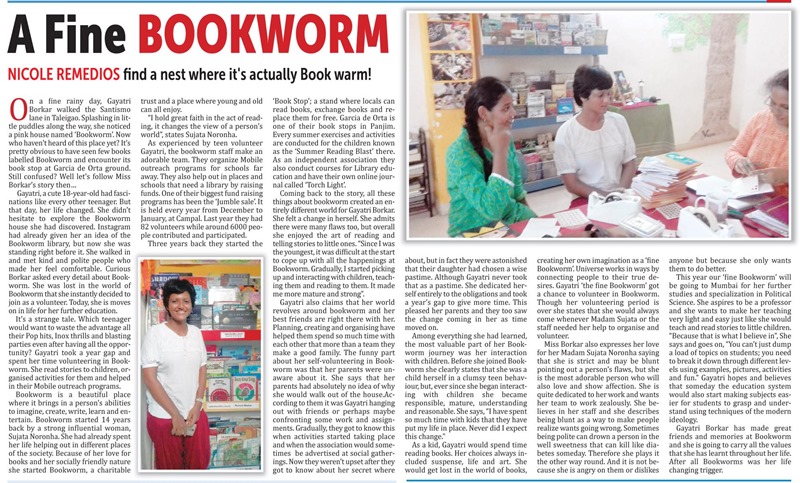 In the Press
Nicole Remedios find a nest where it's actually Book warm!
On a fine rainy day, Gayatri Borkar walked the Santismo lane in Taleigao. Splashing in little puddles along the way, she noticed a pink house named 'Bookworm'. Now who haven't heard of this place yet? It's pretty obvious to have seen few books labelled Bookworm and encounter its book stop at Garcia de Orta ground. Still confused? Well let's follow Miss Borkar's story then…
Gayatri, a cute 18-year-old had fascinations like every other teenager. But that day, her life changed. She didn't hesitate to explore the Bookworm house she had discovered. Instagram had already given her an idea of the Bookworm library, but now she was standing right before it. She walked in and met kind and polite people who made her feel comfortable. Curious Borkar asked every detail about Bookworm. She was lost in the world of Bookworm that she instantly decided to join as a volunteer. Today, she is moving on in life for her further education.
It's a strange tale. Which teenager would want to waste the advantage all their Pop hits, Inox thrills and blasting parties even after having all the opportunity? Gayatri took a year gap and spent her time volunteering in Bookworm. She read stories to children, organised activities for them and helped in their Mobile outreach programs.
Bookworm is a beautiful place where it brings in a person's abilities to imagine, create, write, learn and entertain. Bookworm started 14 years back by a strong influential woman, Sujata Noronha. She had already spent her life helping out in different places of the society. Because of her love for books and her socially friendly nature she started Bookworm, a charitable trust and a place where young and old can all enjoy.
"I hold great faith in the act of reading, it changes the view of a person's world", states Sujata Noronha.
As experienced by teen volunteer Gayatri, the bookworm staff make an adorable team. They organize Mobile outreach programs for schools far away. They also help out in places and schools that need a library by raising funds. One of their biggest fundraising programs has been the 'Jumble Sale'. It is held every year from December to January, at Campal. Last year they had 82 volunteers while around 6000 people contributed and participated.
Three years back they started the 'Book Stop'; a stand where locals can read books, exchange books and replace them for free. Garcia de Orta is one of their book stops in Panjim. Every summer exercises and activities are conducted for the children known as the 'Summer Reading Blast' there. As an independent association they also conduct courses for Library education and have their own online journal called 'Torch Light'.
Coming back to the story, all these things about Bookworm created an entirely different world for Gayatri Borkar. She felt a change in herself. She admits there were many flaws too, but overall she enjoyed the art of reading and telling stories to little ones. "Since I was the youngest, it was difficult at the start to cope up with all the happenings at Bookworm. Gradually, I started picking up and interacting with children, teaching them and reading to them. It made me more mature and strong".
Gayatri also claims that her world revolves around bookworm and her best friends are right there with her. Planning, creating and organising have helped them spend so much time with each other that more than a team they make a good family. The funny part about her self-volunteering in Bookworm was that her parents were unaware of it. She says that her parents had absolutely no idea of why she would walk out of the house.According to them it was Gayatri hanging out with friends or perhaps maybe confronting some work and assignments. Gradually, they got to know this when activities started taking place and when the association would sometimes be advertised at social gatherings. Now they weren't upset after they got to know about her secret where about, but in fact they were astonished that their daughter had chosen a wise pastime. Although Gayatri never took that as a pastime. She dedicated herself entirely to the obligations and took a year's gap to give more time. This pleased her parents and they too saw the change coming in her as time moved on.
Among everything she had learned, the most valuable part of her Bookworm journey was her interaction with children. Before she joined Bookworm she clearly states that she was a child herself in a clumsy teen behaviour, but, ever since she began interacting with children she became responsible, mature, understanding and reasonable. She says, "I have spent so much time with kids that they have put my life in place. Never did I expect this change."
As a kid, Gayatri would spend time reading books. Her choices always included suspense, life and art. She would get lost in the world of books, creating her own imagination as a 'fine Bookworm'. Universe works in ways by connecting people to their true desires. Gayatri 'the fine Bookworm' got a chance to volunteer in Bookworm.  Though her volunteering period is over she states that she would always come whenever Madam Sujata or the staff needed her help to organise and volunteer.
Miss Borkar also expresses her love for her Madam Sujata Noronha saying that she is strict and may be blunt pointing out a person's flaws, but she is the most adorable person who will also love and show affection. She is quite dedicated to her work and wants her team to work zealously. She believes in her staff and she describes being blunt as a way to make people realize wants going wrong. Sometimes being polite can drown a person in the well sweetness that can kill like diabetes someday. Therefore she plays it the other way round. And it is not because she is angry on them or dislikes anyone but because she only wants them to do better.
This year our 'fine Bookworm' will be going to Mumbai for her further studies and specialization in Political Science. She aspires to be a professor and she wants to make her teaching very light and easy just like she would teach and read stories to little children. "Because that is what I believe in", She says and goes on, "You can't just dump a load of topics on students; you need to break it down through different levels using examples, pictures, activities and fun." Gayatri hopes and believes that someday the education system would also start making subjects easier for students to grasp and understand using techniques of the modern ideology.
Gayatri Borkar has made great friends and memories at Bookworm and she is going to carry all the values that she has learnt throughout her life. After all Bookworms was her life changing trigger.