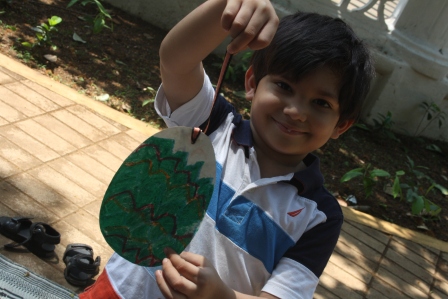 Activities
Eggggggciting News….and stories too!
Ahhhhhh…Saturday morning! And what better way to kick off the Easter weekend than an egg hunt?! And so it was! Bookworm and a bunch of excited kids headed off to F.L. Gomes Park in Campal for a morning of fun in the sun!
Starting off with a story (but ofcourse!) called Easter Egg Hunt, the kids were all ears and all hands were waiting to get their hands on the Easter eggs!
And when they heard the word "GO!"….they were off! Through the bushes, on branches of shrubs, under the leaves; they left no stone unturned, literally!
And every minute or so, they'd come charging back with a newly found egg! "How many more are left?!" "I found one!" " I got more than you did!" "Yaaaaaaaaaaaaaaay!!" Yes, excitement was 'eggsactly' what we'd hoped for!
The collection of Easter books was on display in honour of the festivity of the week…..and right on cue, we cracked up as we listened to some riddles from the Easter Yolks book.
Oil pastels were in full action as the kids decorated their own paper eggs and the colours were all about! Patterns and prints were transferred to paper with great enthusiasm as the kids still asked "are there any more eggs for us?!"
The little worms then made little chickens….and to compete the day entirely…..you can imagine the glee when they found the eggs in their little baskets!
Outdoors…..the little worms, with books. Fabulous!