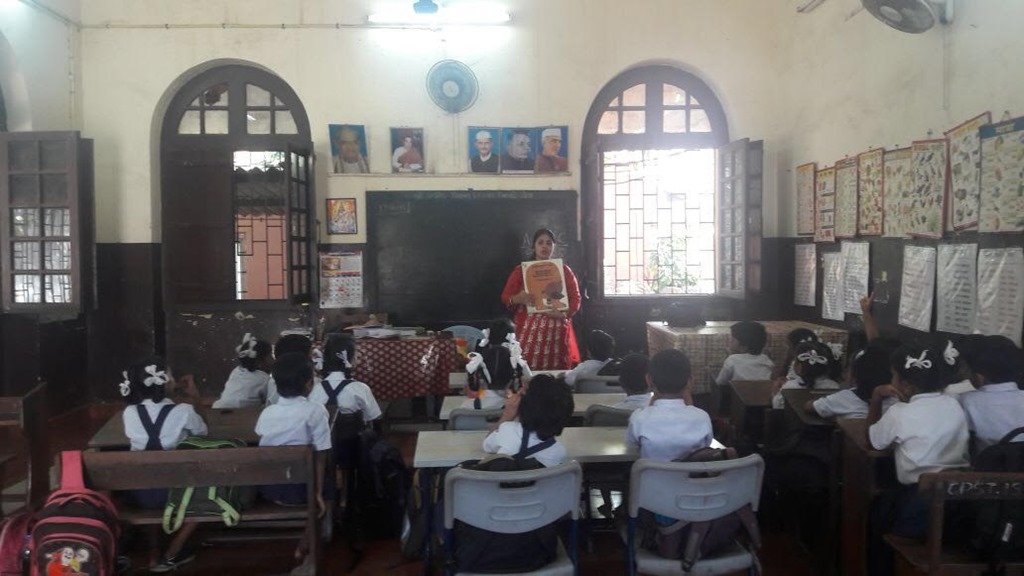 Libraries in Schools
An Interview with Sakshi Sunil Mayenkar
Q: When did you join Bookworm and in what role?
SSM: I joined BW on the 31st of August 2015 as a library assistant supporting the LiS program.
Q: Did you have any expectations when you joined and how have they changed?
SSM : I wondered if I would be able to work because I had never worked before and my sister Vandana Chopdekar was working at Bookworm, so on her word I joined.
Since I am here, " khub change zale" ( I have changed a lot). I began as an assistant and through assisting I have an interest in reading books and of late I am also interested in reading all the Bookworm blog posts. My mentor is Deepali, " taje polon hav shikla" ( Seeing her I have learnt a lot)
Q: What has surprised you most about yourself at Bookworm in this past time?
SSM : My fluency in English has greatly increased. I am able to understand many difficult words and have confidence to speak to different people, English speaking as well, which before I never had.
Q: Being in the Libraries in Schools Program is about a different way of teaching for us at Bookworm. Have you felt that we teach differently through the Bookworm method and has this changed your idea of what teachers can do?
SSM: When I was in college, I used to give tuitions to children, so I imagined I knew a bit about teaching. However I realise now that teaching is not about telling children what to do, what the answers are, but about helping them to understand, waiting for them to come up with the answers. We believe in Bookworm that samjun ( meaning making) is the most important.
I also have learnt that writing is not the first way to learning but drawing. When we ask children to draw they are able to tell us their ideas and slowly those drawings become writing.
Q: You have now been immersed into our 11th School, Government Primary School, Taleigao as a lead. How does this feel?
SSM: I was not worried about taking the lead, because I have had a lot of experience watching Deepali as well as doing some sessions in bigger schools like Auxilium ( Caranzalem) when leads were not there and so I was ready for this lead.
Q: What have been your most surprising observations at GPS, Taleigao?
SSM: The children were very happy to have a library class. But the mixed languages of the children and their lack of experience with classroom work, was a big shock to me. In other schools, children are settled in the routine " stand – sit , listen – do ". Here because of language I think they do not know what to do, they seem confused and that was a shock. They know very little.
But the wonderful thing is there is a Nursery class and those children come to listen to the story and they are so interested in our library class.
Q: What do you anticipate as the difficulties in going forward with leading at GPS Taleigao?
SSM: I need to plan more, think about the instructions because some children do not understand what I am saying in any language ( Hindi, Konkani, Marathi, English). Their language I do not have and so I need to find ways to tell them and talk to them.
Q: If you stopped working at Bookworm, what would you miss?
SSM: Everything! But more specifically my colleagues, the sense of being an independent worker and the access to the collection because now my son is reading books like "Haunted House ".
Q: Given your experience here at Bookworm is there anything you would like to suggest as a way in which to improve our system?
SSM : " hav itle deep chintoo na, kedna" ( I have never thought so deeply !)
Q: Is there anything else you would like to add?
SSM: Without Bookworm " hav aani khai kaamv karche na " .
This is my FIRST and LAST show.