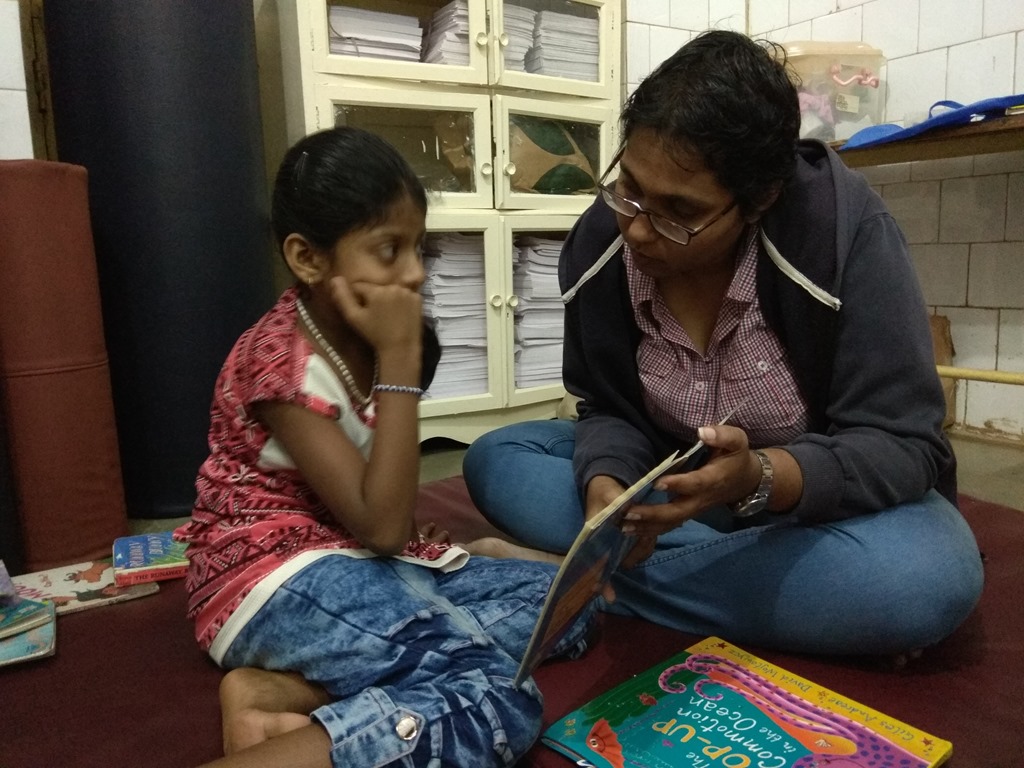 Libraries in Schools
My Initial Experiences at Bookworm
For two years I passed by this unassuming red building named Bookworm. I never thought of entering, thinking that it was only a children's library (my loss). My journey at Bookworm started when a friend, Krystle, who works with them told me about the work they did and asked whether I would be interested in helping out. I checked out the Bookworm website and got a little insight into the work that they did, which piqued my interest. So after some coaxing by Krystle and also the fact that I had a lot of free time at hand, I decided to go and observe a session.
The site I was to visit was at Hospicio Margao. I was late by 15 minutes (thankfully Krystle had given me clear directions to the resource room), was worried about being late and apologised. The session had already started and book browsing was in progress. Once that was over and we moved on to the next section, I was enthralled by all the enthusiasm in the room, the way the children sang the circle song, how they played a game through which we introduced ourselves, the Story and all that it entails in a regular Bookworm session.
Most of the children were extremely shy at first and yet being there among them I felt warm, welcome and loved (yeah children have that magical power). While I was there, time just flew and I did not even realise that I had spent one hour and fifteen minutes with the children; it just felt like five minutes. I was sad that the session was over and I wanted more. While discussing what I felt about the session, I expressed surprise at how normal the children seemed, even though the MOP (Mobile Outreach Program) team had told me that they had learning difficulties.
After two sessions in Margao, I was asked if I wanted to observe a session in Chimbel. I readily agreed and again I was in a trance because the excitement of the children at Chimbel was at least 5 notches higher than the children at Margao. Meanwhile I received blasts of emails in the form of reports, half of which I could not comprehend due to the numerous abbreviations used by the Team (sigh). So at a Monday meeting (which is another exciting event that happens at Bookworm) most of the abbreviations were explained to me and only then did all the emails make sense to me (Phew what a relief! And here I thought I was a total idiot).
In between, one day, out of the blue, Deepali asked if I would like to observe an LiS (Libraries in Schools) session. I went for one session at a school in Goa Velha. As soon as the Bookworm Team entered the class, the children went into a frenzy; 50 children in all, such was their excitement. I can say the love for the Bookworm team was amazing. But as the day wore on, so did my excitement; 20 children at MOP was fine but this was a bit too much for me; I could not take it – I just wanted to go home and sleep. I had made up my mind that MOP I could do, but LiS was an impossible feat. (The ones doing LiS deserve a gold medal). Then once again Deepali asked me if I could assist at an LiS session at a different school in Nagoa; being me I simply cannot say no to an extremely polite and sugar coated request (Everyone has a soft spot for sugar, mine being a very big one.)
This time I paid more attention, watched, listened and of course assisted, but it was somehow different; I cannot say what was different but there was some magic happening here and I wanted to be a part of it. So when the next request of assisting at LiS came, I could not say no; I was hooked and there has been no turning back.
My journey with Bookworm began more than a month ago, and what a journey it has been. I went from observation to assisting and very soon I shall be leading my first session. The Bookworm team has been so wonderful and the Monday meetings are so stimulating, I am glad I decided to be a part of this amazing concept, idea, work, way of life; call it what you want, it is amazing and a big thank you to all at Bookworm for all the help and encouragement I receive.
A lawyer by profession and a baker by passion, books have always been my constant companions. Books take me on a wonderful journey, often making me forget reality; be it during horrible lectures, boring seminars, long bus rides home or train journeys. I often feel that books have added colour to my life; without books it would have been just black and white like Law! I no longer practice law and have been on a quest to find something that I truly love doing and believe in. I feel like I have found it right here at Bookworm. All I want to see is for children to experience the same joy that I feel while reading books. Seems like a challenge in today's digital world, and I would like to say, "challenge accepted"!
A very proud baby Bookworm!