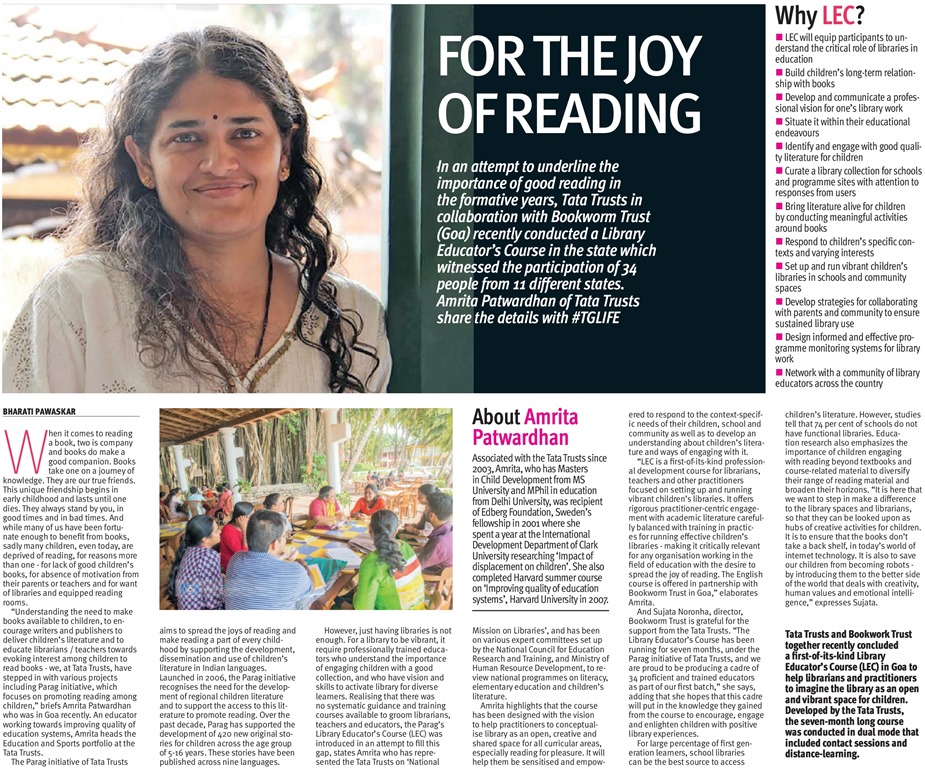 In the Press
Press feature: The Goa, 20th October 2017
In an attempt to underline the importance of good reading in the formative years, Tata Trusts in collaboration with Bookworm Trust (Goa) recently conducted a Library Educator's Course in the state which witnessed the participation of 34 people from 11 different states. Amrita Patwardhan of Tata Trusts share the details with #TGLIFE
When it comes to reading a book, two is company and books do make a good companion. Books take one on a journey of knowledge. They are our true friends. This unique friendship begins in early childhood and lasts until one dies. They always stand by you, in good times and in bad times. And while many of us have been fortunate enough to benefit from books, sadly many children, even today, are deprived of reading, for reasons more than one – for lack of good children's books, for absence of motivation from their parents or teachers and for want of libraries and equipped reading rooms.
"Understanding the need to make books available to children, to encourage writers and publishers to deliver children's literature and to educate librarians / teachers towards evoking interest among children to read books – we, at Tata Trusts, have stepped in with various projects including Parag initiative, which focuses on promoting reading among children," briefs Amrita Patwardhan who was in Goa recently. An educator working towards improving quality of education systems, Amrita heads the Education and Sports portfolio at the Tata Trusts.
The Parag initiative of Tata Trusts aims to spread the joys of reading and make reading a part of every childhood by supporting the development, dissemination and use of children's literature in Indian languages. Launched in 2006, the Parag initiative recognises the need for the development of regional children literature and to support the access to this literature to promote reading. Over the past decade, Parag has supported the development of 420 new original stories for children across the age group of 5-16 years. These stories have been published across nine languages.
However, just having libraries is not enough. For a library to be vibrant, it require professionally trained educators who understand the importance of engaging children with a good collection, and who have vision and skills to activate library for diverse learners. Realising that there was no systematic guidance and training courses available to groom librarians, teachers and educators, the Parag's Library Educator's Course (LEC) was introduced in an attempt to fill this gap, states Amrita who has represented the Tata Trusts on 'National Mission on Libraries', and has been on various expert committees set up by the National Council for Education Research and Training, and Ministry of Human Resource Development, to review national programmes on literacy, elementary education and children's literature.
Amrita highlights that the course has been designed with the vision to help practitioners to conceptualise library as an open, creative and shared space for all curricular areas, especially reading for pleasure. It will help them be sensitised and empowered to respond to the context-specific needs of their children, school and community as well as to develop an understanding about children's literature and ways of engaging with it.
"LEC is a first-of-its-kind professional development course for librarians, teachers and other practitioners focused on setting up and running vibrant children's libraries. It offers rigorous practitioner-centric engagement with academic literature carefully balanced with training in practices for running effective children's libraries – making it critically relevant for any organisation working in the field of education with the desire to spread the joy of reading. The English course is offered in partnership with Bookworm Trust in Goa," elaborates Amrita.
And Sujata Noronha, director, Bookworm Trust is grateful for the support from the Tata Trusts. "The Library Educator's Course has been running for seven months, under the Parag initiative of Tata Trusts, and we are proud to be producing a cadre of 34 proficient and trained educators as part of our first batch," she says, adding that she hopes that this cadre will put in the knowledge they gained from the course to encourage, engage and enlighten children with positive library experiences.
For large percentage of first generation learners, school libraries can be the best source to access children's literature. However, studies tell that 74 per cent of schools do not have functional libraries. Education research also emphasizes the importance of children engaging with reading beyond textbooks and course-related material to diversify their range of reading material and broaden their horizons. "It is here that we want to step in make a difference to the library spaces and librarians, so that they can be looked upon as hubs of creative activities for children. It is to ensure that the books don't take a back shelf, in today's world of internet technology. It is also to save our children from becoming robots – by introducing them to the better side of the world that deals with creativity, human values and emotional intelligence," expresses Sujata.
Tata Trusts and Bookwork Trust together recently concluded a first-of-its-kind Library Educator's Course (LEC) in Goa to help librarians and practitioners to imagine the library as an open and vibrant space for children. Developed by the Tata Trusts, the seven-month long course was conducted in dual mode that included contact sessions and distance-learning.
Why LEC?
LEC will equip participants to understand the critical role of libraries in education

Build children's long-term relationship with books

Develop and communicate a professional vision for one's library work

Situate it within their educational endeavours

Identify and engage with good quality literature for children

Curate a library collection for schools and programme sites with attention to responses from users

Bring literature alive for children by conducting meaningful activities around books

Respond to children's specific contexts and varying interests

Set up and run vibrant children's libraries in schools and community spaces

Develop strategies for collaborating with parents and community to ensure sustained library use

Design informed and effective programme monitoring systems for library work

Network with a community of library educators across the country
About Amrita Patwardhan
Associated with the Tata Trusts since 2003, Amrita, who has Masters in Child Development from MS University and MPhil in education from Delhi University, was the recipient of Edberg Foundation, Sweden's fellowship in 2001 where she spent a year at the International Development Department of Clark University researching 'Impact of displacement on children'. She also completed Harvard summer course on 'Improving quality of education systems', Harvard University in 2007.