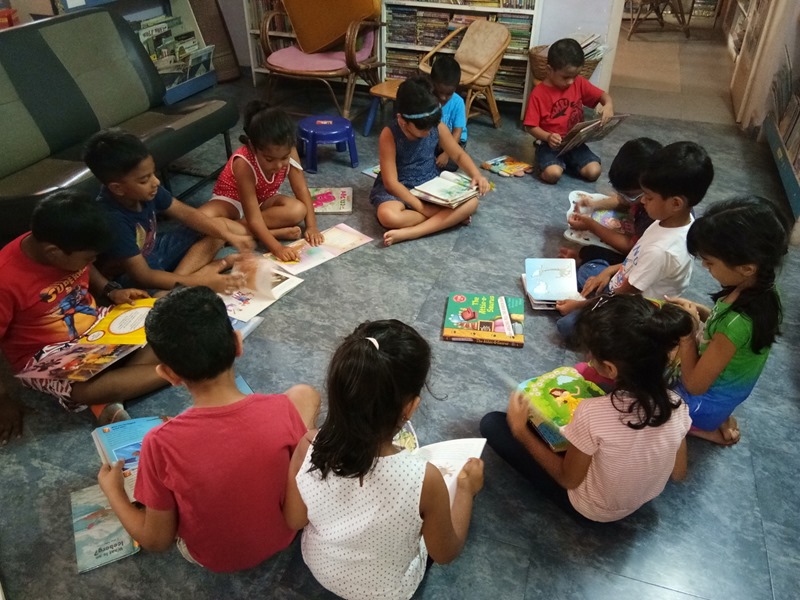 Library
Out growing my Pre- School Group
Over the last three years, the Preschool Morning at Bookworm has been one of my most enjoyable responsibilities. Preschool mornings are held every Saturday come what may….unless of course it is a public holiday.
This is an Early Literacy Program that nurtures preschoolers to engage with books to inculcate a love for books and reading. The session is designed in a way that stimulates the attention of the young child around print, listening and doing activities. The children are encouraged to not only feel safe and comfortable in the library but are also actively encouraged to pick any book of their choice to browse or picture read or to simply listen to a story. A typical session would include some Free Play, Song, Game, Book browsing based on the theme of the story, Story Read Aloud, an individual craft and a collaborative craft along with a theme based short film and snacks.
Over the last couple of years, I have witnessed a wonderful relationship blooming between children, Bookworm and books. I remember two years back, I would choose the simplest stories that these young ones could follow and plan my sessions accordingly. Gradually, the stories started getting longer, the pre-story discussions started getting livelier, the crafts and the literacy games started getting complicated. Even my session plans started changing. We started doing author studies and discussing authors and their key characters and styles. The children began to recognize the illustrator- author by the style in the book. These sessions were challenging for me as well as I now had to choose my stories more carefully. It has been an extremely satisfying journey to watch our young children bloom so well.
But as they say, the one thing that is constant in life is change. These preschoolers have now grownup up into school–ers and have joined regular school which may or may not enable them to come to Bookworm every Saturday and I will surely miss them. But…. as I said change is constant, I now have a new group of babies that have started coming to Bookworm to build a new relationship with books. And I am back to simple and easy session plans and stories with a joyful heart again. One way we hope our journey is sustained, is if the parents of our growing readers, continue to bring them to the library strengthening the relationship that was fostered in the early years, we know our tribe of bookworms will grow.