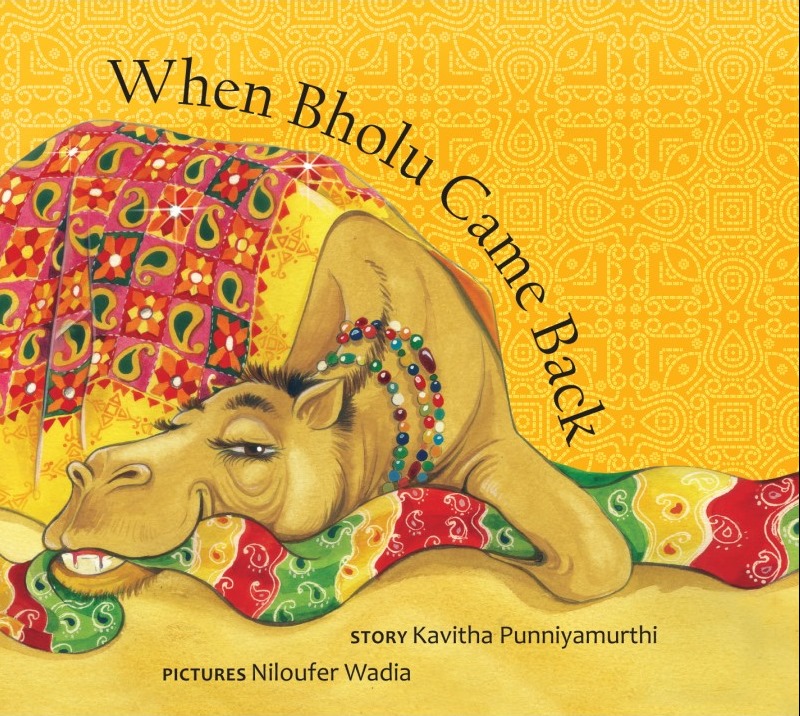 Library
Every month, unfailingly we receive a pack of new books that are published by Tulika. Every month there is a scramble to get to the pack first and explore the new books. Every month these new books are discussed at our meetings; comparing, contrasting, commenting and considering on how we will use them, whom we can recommend them to and so on. A rather tedious and intense Bookworm approach to books and library work.
This month, actually yesterday, I got to the packet first ! It was my turn, a fortuitous turn as it turned out – because I loved what I found.
A story – uncomplicated, for most part; funny, tender and charming. A book, that I would love to share with young children and older readers for the dimensions it immediately presented to me.
Niloufer Wadia whom the book says, is exploring her first love of illustration and painting, perhaps brought much of that love to visualisation of the story. The textured background that has 'tie and dye' like print on every page, gives the visuals an immediate warmth.
The accentuation of Bholu's expressions with his grin and eyes, endear almost immediately and the use of motifs, colours and prints from 'Rajasthan' – the region make the book seem well represented. I say 'seem' because in my own travels and study I have come to know that every print – particularly on turbans and colours represent some community and tribe and I am not sure how well researched this aspect is in the book. For now, the representation is cheery and colourful and goes well with the story line.
Kavitha Punniyamurthi whose dedication caught my eye immediately keeps relationships alive in this story. There is always a preciousness to man and beast relationships. I think we all need to read and experience more of this gentle ability we have as human beings to love an animal enough to put our own needs later, because in the equilibrium of the universe ( of stories, at least) it all balances out, just fine in the end !
The larger question of tourism and what it brings and the means it serves, allows a book like this – simple but not simplistic to be used as a trigger for discussions. Here is Goa, I am able to see how I can allow our children to enjoy a heart felt story from another region and connect some of it with our own. A book like 'When Bholu Came Back' makes us all as happy as Beni Ram.
Image Courtesy: http://www.tulikabooks.com/general-picture-books/when-bholu-came-back-english.html