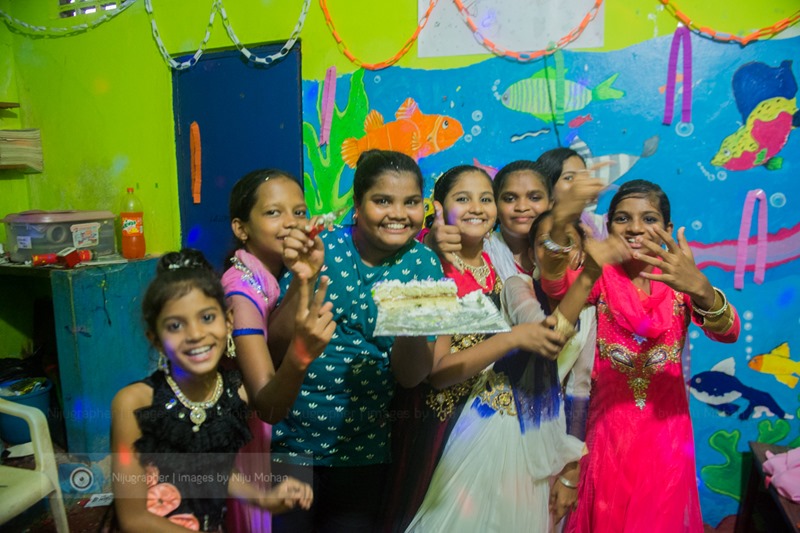 Chimbel
Teachers' Day Celebration at Chimbel
Chimbel Community Library run through our Mobile Outreach Program (MOP) is the oldest site in the MOP. From the beginning itself our engagement with the site has been intense when compared to the other sites because of the large number of children who access the library. For the same reason we used to visit Chimbel twice a week until early this year and since we increased our library days to thrice a week. The site is closer to 5 years now and during the course of these years, the library has become a significant space for the users.
We felt this even more intensely  after witnessing the Teacher's day celebrations organised completely by the children earlier this month. "The Library Teachers" are their favourites as we knew it from the various sharing opportunities we have had through the program. For the same reason, if a resource person, doesn't show up for over a week, the children will definitely start asking for them, complaining about their absence and even demanding contact numbers to enquire about the next visit.
In the first week of August, the children collectively told the resource persons that they want to celebrate Teachers' Day and all the teachers must come. We were told not to get involved in what was going to happen and we let them plan, organize and manage the event. We had to just show up during the evening. Sujata being their most favourite teacher, they even postponed the event to make sure she was in town for the event. They asked us permission to decorate the room the previous day and we made it available through the homeowner.
From Bookworm there was Sujata, Jewel, Shruthi, Krupa, Ruth, Shraddha, Gayatri, Claudia, Megha and Me. Since children kept us in the dark about the plan for the day, we were wondering if it was happening and what is going to happen? When we reached, the door was locked from outside and Sujata was asked to open it. When she unlocked it, we couldn't recognize the library. It was transformed. Decorations, balloons, quotes about library, disco lights, chairs for the guests (All the teachers) and an enthusiastic bunch of children who are dressed way better than all of us
What followed was a celebration of the relationship we have. There was announcements, instructions, songs, dance, skits, cake, softdrinks and snacks – a perfect party mix. We wouldn't have pulled it together like it. Please see some of the pictures here.
We must thank the children for making our day special and giving us the opportunity and the privilege to work with them. And also for making us part of their lives.