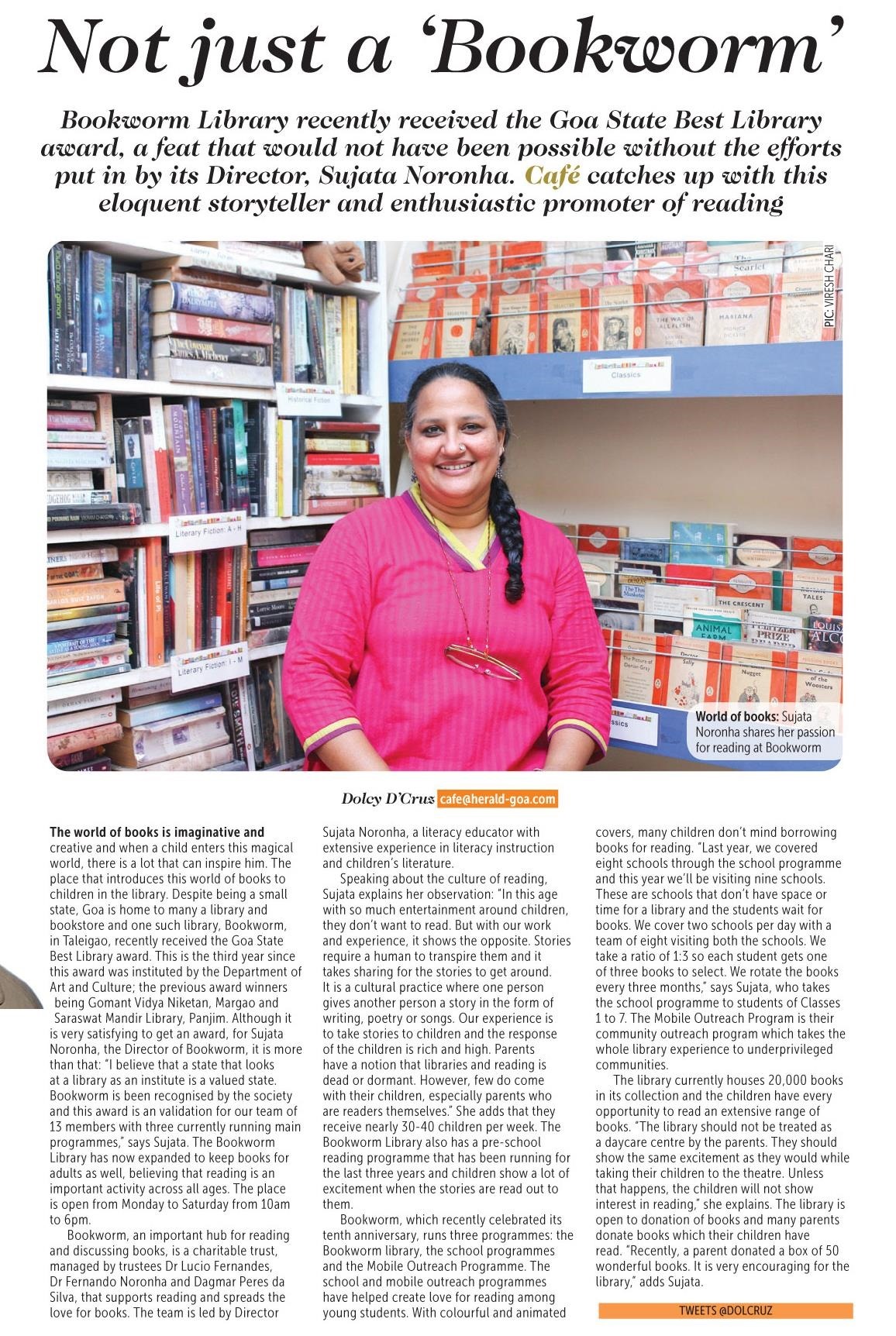 In the Press
Herald Cafe 2nd June 2016
Bookworm Library recently received the Goa State Best Library award, a feat that would not have been possible without the efforts put in by its Director, Sujata Noronha. Café catches up with this eloquent storyteller and enthusiastic promoter of reading World of books: Sujata Noronha shares her passion for reading at Bookworm
The world of books is imaginative and creative and when a child enters this magical world, there is a lot that can inspire him. The place that introduces this world of books to children in the library. Despite being a small state, Goa is home to many a library and bookstore and one such library, Bookworm, in Taleigao, recently received the Goa State Best Library award. This is the third year since this award was instituted by the Department of Art and Culture; the previous award winners being Gomant Vidya Niketan, Margao and Saraswat Mandir Library, Panjim. Although it is very satisfying to get an award, for Sujata Noronha, the Director of Bookworm, it is more than that: " I believe that a state that looks at a library as an institute is a valued state. Bookworm is been recognised by the society and this award is an validation for our team of 13 members with three currently running main programmes," says Sujata. The Bookworm Library has now expanded to keep books for adults as well, believing that reading is an important activity across all ages. The place is open from Monday to Saturday from 10am to 6pm.
Bookworm, an important hub for reading and discussing books, is a charitable trust, managed by trustees Dr Lucio Fernandes, Dr Fernando Noronha and Dagmar Peres da Silva, that supports reading and spreads the love for books. The team is led by Director Sujata Noronha, a literacy educator with extensive experience in literacy instruction and children's literature.
Speaking about the culture of reading, Sujata explains her observation: " In this age with so much entertainment around children, they don't want to read. But with our work and experience, it shows the opposite. Stories require a human to transpire them and it takes sharing for the stories to get around. It is a cultural practice where one person gives another person a story in the form of writing, poetry or songs. Our experience is to take stories to children and the response of the children is rich and high. Parents have a notion that libraries and reading is dead or dormant. However, few do come with their children, especially parents who are readers themselves." She adds that they receive nearly 30- 40 children per week. The Bookworm Library also has a pre- school reading programme that has been running for the last three years and children show a lot of excitement when the stories are read out to them.
Bookworm, which recently celebrated its tenth anniversary, runs three programmes: the Bookworm library, the school programmes and the Mobile Outreach Programme. The school and mobile outreach programmes have helped create love for reading among young students. With colourful and animated covers, many children don't mind borrowing books for reading. " Last year, we covered eight schools through the school programme and this year we'll be visiting nine schools. These are schools that don't have space or time for a library and the students wait for books. We cover two schools per day with a team of eight visiting both the schools. We take a ratio of 1: 3 so each student gets one of three books to select. We rotate the books every three months," says Sujata, who takes the school programme to students of Classes 1 to 7. The Mobile Outreach Program is their community outreach program which takes the whole library experience to underprivileged communities.
The library currently houses 20,000 books in its collection and the children have every opportunity to read an extensive range of books. " The library should not be treated as a daycare centre by the parents. They should show the same excitement as they would while taking their children to the theatre. Unless that happens, the children will not show interest in reading," she explains. The library is open to donation of books and many parents donate books which their children have read. " Recently, a parent donated a box of 50 wonderful books. It is very encouraging for the library," adds Sujata.