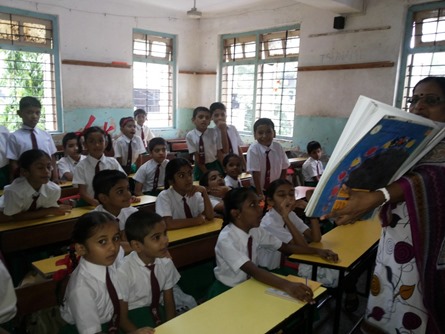 Libraries in Schools
LiS at Sharon School, Mulund Mumbai
Goa to Bombay ( okay, read Mumbai) is where the Library in School Program has a new site.
It all began some months ago when Sharon English School, Mulund, Mumbai showed an interest in how LiS functions and how we could share our pedagogy and material with their teachers.
Since the vision and mission of LiS and all Bookworm work is to raise readers, the question of support was a matter of logistics. However, one must admit the management of the Sharon English School are the parents of my friend Jennifer Thomas and it seemed like a simple decision of migrating to Bomboi and getting on with the work .
LiS is the way Std 3 of the Sharon English School are going to school, every Saturday. The 150 strong group of children have an hourly library class in 4 batches and each class includes a read aloud, book browsing, book lending, reader response activities to the read aloud and book talk sessions.
The teachers who have taken on this journey are wonderfully motivated by their years of experience of knowing that reading is central to learning, by knowing that reading in itself is a powerful human experience that must be supported and by their willingness to accommodate alternate pedagogic practices in supporting an active library program.
Reports over 3 weeks indicate that the children are active participants in the library class, eager to listen, read and learn and engaging with the activities of the library class with great deal of creative enthusiasm. This is how we raise readers and in migrating the program out of Bookworm control I am quite positive the LiS pedagogy will have an equal opportunity of being tested and trialled and in many ways might be strengthened so that this work can grow and continue to raise readers in Goa and beyond.