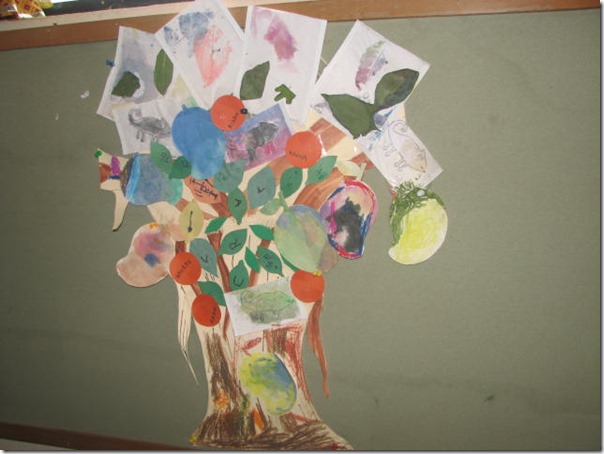 Library
Blog post by Barkha Sharda
The second day at 'Story-book-art' was an even more interesting day than the first. We started out by reading an ABC Sticker book, 'Chicka Chicka Sticka Sticka' by Bill Martin Jr and John Archambault. This initiated our discussion on trees and the association with trees. We discussed the fruits that grow on trees, what are the parts of a tree, what are the many kinds of trees and kind of creatures live on trees.
We started by making leaf impressions on paper. We painted real leaves with bright colours and pressed the painted side onto the sheet to make impressions of the leaf. We used different leaves for the activity. We then painted our own mangoes in interesting colours and patterns. We also painted a chameleon to go on the tree. We then coloured some leaves to add to our tree.
We took paper leaves and wrote the individual letters in our first names to add to the tree. We also wrote our names on oranges to go up on the tree. These were all individual activities.
For a collaborative activity we coloured the banyan tree bark together with both oil pastels and water colours. We then used sticks as a base and put the fruits, leaves, chameleons and letter leaves on the tree.
The children were thrilled with the collaborative tree. Like the first session wherein we made sea and creatures of the sea relating to the Preschool Morning theme of rain; for this session we discussed the tree to connect it to the family tree idea of the next day morning's session.