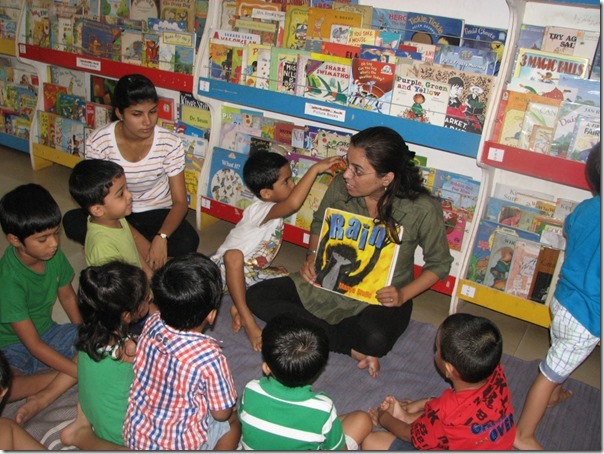 Info for Parents
Pre-school mornings are back
Blog post by Deepali Correya
Come June and after a two week hiatus, our Pre-School Mornings have started. Every Saturday morning is kept aside especially for all the pre-school cutie pies. We have different themes based on an age appropriate story and exciting games and cute little songs and art and craft and maybe sometimes even some food craft…… They all toddle up at 10 am  on a Saturday morning and stay with us till 12.30. But naturally, our first theme was 'Library', there were picture books for them to browse through which all had pictures of books or a library, a library song too.
We had a game wherein they all had to hunt for different types of books, small book, big book, red book, round book…the hunt was on!!! After the Read Aloud and a snack break for the tired hunters, we all went upstairs to make our own books. Armed with crayons and small pages, everybody sat to make their own books. Such precision and thoughtfulness from such small tiny hands was simply quite adorable.  The next Saturday was just before school re-opened and our theme was 'Back to School'. Everyone learned a new song,"we like to go to school.". After book browsing and the Read Aloud, there was an exciting game of picking up accessories required for a school bag and packing the bag and running off to school. That did get them a bit tired and hungry so we all trooped upstairs to make some sandwiches for our Tiffins.

Every one was ready with their plastic knives and plates to smear butter and jam on their slices to make yummy sandwiches which we then cut into exciting shapes. After so much hard work, was it any surprise that all the sandwiches were finished in no time. No fuss there at all !!! Now suitably energized, we all sat down to make Welcome cards for our favourite teachers and what lovely cards emerged !! These were carefully tucked in their bags to be taken to school on the following Monday. Before leaving for the day, they all left their hand prints in a circle of friendship along with their friends here.
The third Saturday had quite a generous dose of sunshine but nevertheless as we are in June, the theme was Rain:-)
With book browsing done with books on rain and a lovely song called," yere yere paavsaa, tula deto paisa…", the Read Aloud story was 'Rain'. All the darlings said that they like rain but mummy does not let them get wet as they would get fever! 🙂 We decided to have a cloud race blowing cotton clouds with the help of a straw, it was FUN ! It was snack-time and after that we brought rain indoors literally on our A4 size papers. Everybody drew colourful rainbows and than we dripped blue paint on it giving it the look of rain.They also made Rain makers to take home and stuck colourful umbrellas on a huge sheet with their thumb prints imprinting raindrops over the umbrellas. The tiny tots also get to take books home for the week along with the fun they have.
Any guesses about what's the theme for the coming Saturday????