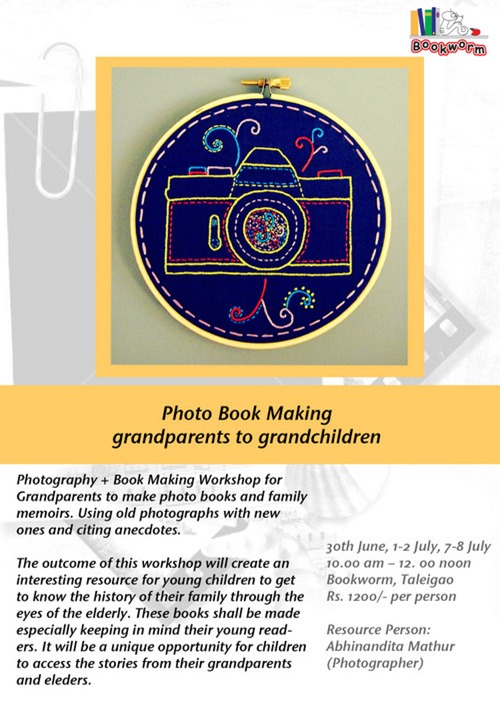 Library
Photo Book Making Project for Grandparents at Bookworm
Grandparents are a treasure of stories and memories. Traditionally, these stories were passed on from generation to generation orally through reciting anecdotes in family gatherings on the dining table and so on. Modern living may not allow such opportunities, with the younger generation being unable to spend time with the elders in their families. This is particularly relevant in Goa where a lot of young people leave homes to find work opportunities or migrate to Goa leaving their families and histories behind.
Their villages in the meantime are transforming. And as Goa makes way for new ways of life, Goans are finding new ways to preserve their culture and identity. While interventions like conservation of architecture may literally have an impact some of the culture is preserved in our memories. These memories therefore play a crucial role in constructing our history.
The history of people makes the history of a place. Each person's history plays a role in weaving the larger narrative of its history.
Personally, for older citizens, democratization of camera technology, digital techniques of photographing, scanning and archiving can serve as useful and easy tools in creating these personal memories in the form of family photo albums, scrap books or history books of their village.
This workshop shall also work towards breaking the ageist myths about technology, finding new ways for older people to not only build a relationship with technology but also put it to relevant use.
The outcome of this workshop will create an interesting resource for young children to get to know the history of their family, village or city through the eyes of the elderly. These books shall be made especially keeping in mind their young readers. It will be a unique opportunity for children to understand the world around them by accessing not only the stories from their own grandparents but also other senior citizens.
Dates: 30th June, 1st July, 2nd July, 7th July , 8th July – 5 days
Time: 10.00 am – 12. 00 noon
Venue: Bookworm, Taleigao
Fee: Rs. 1200/- per person
Resource Person: Abhinandita Mathur ( Photographer)
For registration call: 0832 2451233