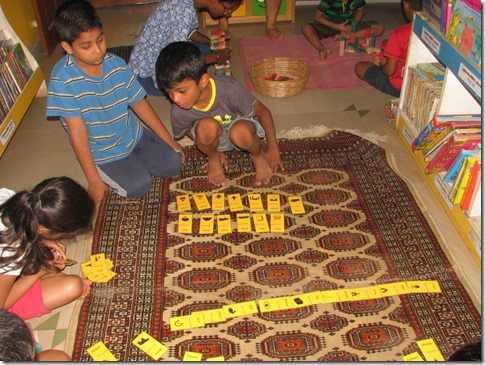 Library
This summer, we've developed plenty of games that have been a hit with the kids that visit the library. Now they come to us and ask, "Teacher, can we play this game?"
Our game list catches your eye as soon as you enter the library space. Each of these games are designed to draw children to reading, building their vocabulary, learning about the various kinds of books in the library and even talking about the books they read. ALL of this- wrapped in plenty of fun, keeps them asking for more.
Dominoes- the children's new favourite has the children connecting images to words the use commonly in their everyday speech. They read the word, match it to its picture and build a chain of them until a child finishes the cards allotted to them.
Bingo!- I confess, sometimes it turns into a shouting competition, but it adds to the fun. The children have to match their pictures on the board to the one that's pulled out from the pile of picture tiles. The first one to have their board covered with the correct picture tiles shouts…you've guessed it…BINGO!
The Masked Newsreader- Inspired by the many masks that were made at the Liz Kemp Art skills workshop that people who attended made, a child (depending on their age) can read out a news headline that's created by them. THINK OF THE POSSIBILITIES! Reporting about "Aliens on Earth!" or even "a monster nightmare that children in their neighbourhood keep having!"
Stay tuned for the next update on Worm News…
Scavenger Hunt has the children scrambling over the library to get things on their list that range from finding a whole box of erasers in the library space, to finding a specific book on a particular shelf. The more complicated, the more fun to watch them run about scrambling to finish their list first.
Come if you dare, try your hand at some of these games- and as a reward you might just find yourself lost in a world of books!