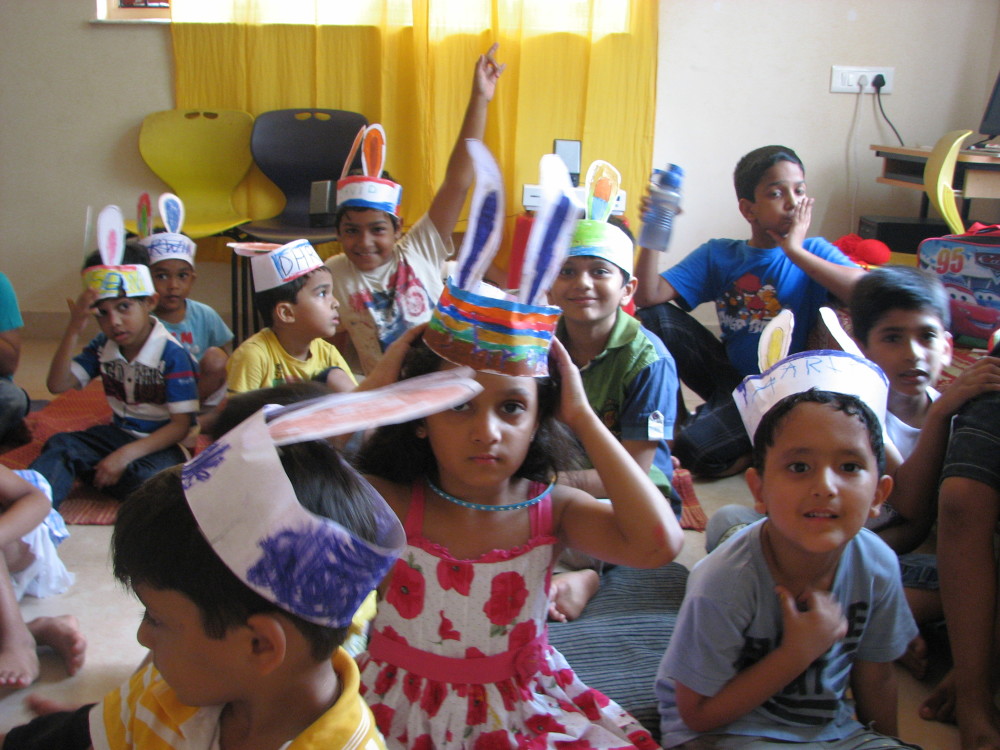 News
Easter Bunnies Hopping Around the Library!
Saturday, day 5 of Summer Camp saw children transformed into Easter Bunnies. They walked in, to find themselves immersed in creating bunny headgear, with their names on it. They had to wear them for the day. 🙂
Bunny ears on, they set out to make what I found online to be the easiest way to make an Easter basket. Fold in a paper bag, an paint it, punch in holes, thread a ribbon and the Easter bunnies now had their egg baskets ready.
They hopped to Krystal who read a beautiful story to them about a bunny who needed an Easter egg but didn't know where to find them. David responded that Easter eggs were only made of chocolate and couldn't be got just anywhere…
HA! All that was remaining now was eggs! The bunnies gathered round to make Marie biscuit chocolate Easter eggs. Pounding the biscuits was met with plenty of enthusiasm and various pounding strategies were used. They also mixed icing sugar, cocoa powder and melted butter. Moulding the eggs in their hands wasn't something they were willing to do. Krystal, Tara and Priya- the mama bunnies completed the task of making the eggs from the mixture.
While they decorated egg shaped hanging with eggshells and sequins, Krystal and Tara went to Taleigao Park to hide 40 plastic eggs filled with chocolate treats for the bunnies to find. Little did the young ones know what was coming…
Scrambling all over the park, little Easter bunnies were heard calling out to each other that they'd found eggs, opened them up and shared treats with each other. They huffed and puffed backed into the library only to take home their chocolate eggs…perhaps to return for more Summer Fun!
Week one is at a joyful and energetic close… Stay tuned for Week two of summer fun! 🙂