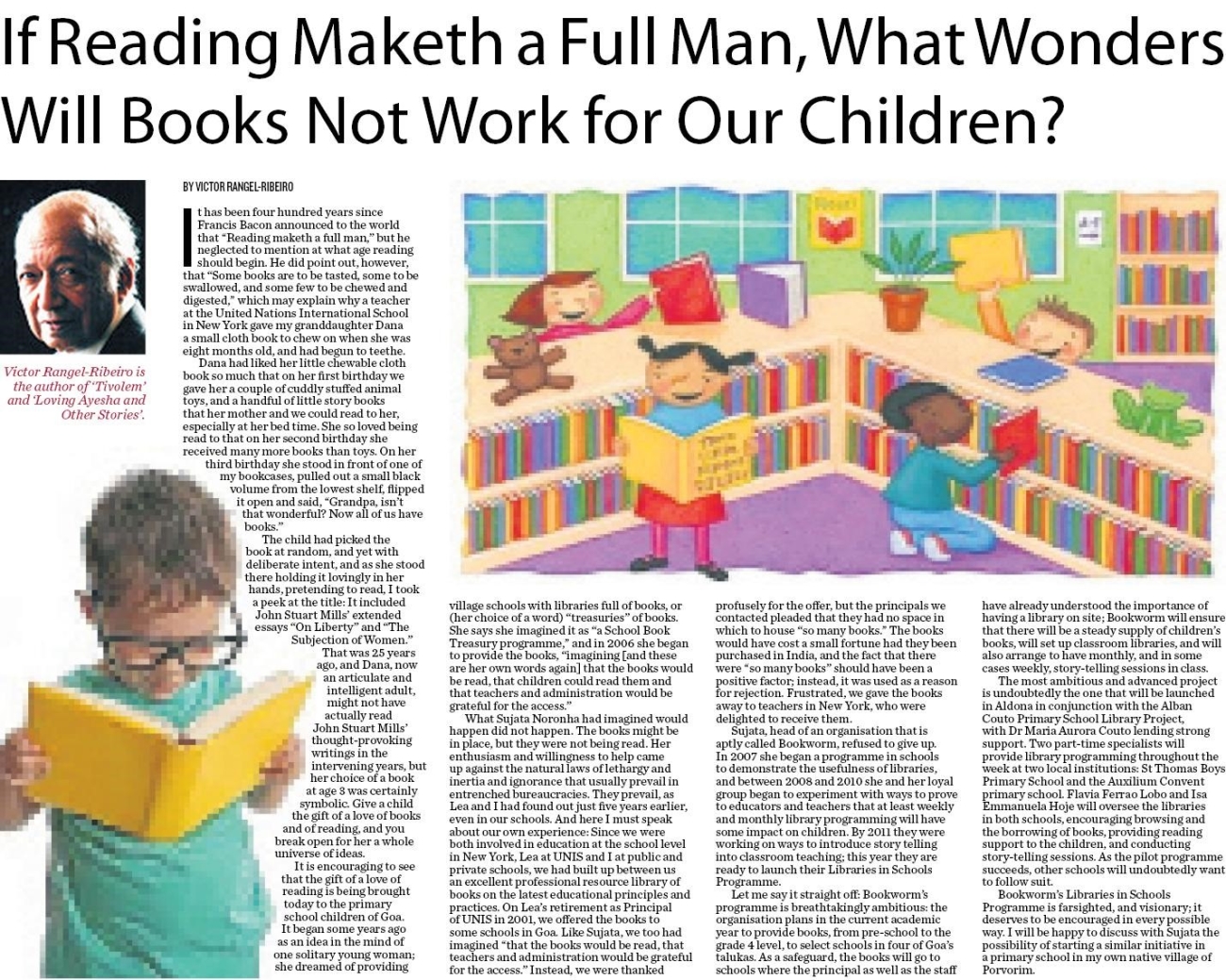 Libraries in Schools
If Reading Maketh a Full Man, What Wonders Will Books Not Work for Our Children? – by Victor Rangel-Ribeiro, 7th July 2013 Navhind Times
It has been four hundred years since Francis Bacon announced to the world that "Reading maketh a full man," but he neglected to mention at what age reading should begin. He did point out, however, that "Some books are to be tasted, some to be swallowed, and some few to be chewed and digested," which may explain why a teacher at the United Nations International School in New York gave my granddaughter Dana a small cloth book to chew on when she was eight months old, and had begun to teethe.
Dana had liked her little chewable cloth book so much that on her first birthday we gave her a couple of cuddly stuffed animal toys, and a handful of little story books that her mother and we could read to her, especially at her bed time. She so loved being read to that on her second birthday she received many more books than toys. On her third birthday she stood in front of one of my bookcases, pulled out a small black volume from the lowest shelf, flipped it open and said, "Grandpa, isn't that wonderful? Now all of us have books."
The child had picked the book at random, and yet with deliberate intent, and as she stood there holding it lovingly in her hands, pretending to read, I took a peek at the title: It included John Stuart Mills' extended essays "On Liberty" and "The Subjection of Women."
That was 25 years ago, and Dana, now an articulate and intelligent adult, might not have actually read John Stuart Mills' thought-provoking writings in the intervening years, but her choice of a book at age 3 was certainly symbolic. Give a child the gift of a love of books and of reading, and you break open for her a whole universe of ideas.
It is encouraging to see that the gift of a love of reading is being brought today to the primary school children of Goa. It began some years ago as an idea in the mind of one solitary young woman; she dreamed of providing village schools with libraries full of books, or (her choice of a word) "treasuries" of books. She says she imagined it as "a School Book Treasury programme," and in 2006 she began to provide the books, "imagining [and these are her own words again] that the books would be read, that children could read them and that teachers and administration would be grateful for the access."
What Sujata Noronha had imagined would happen did not happen. The books might be in place, but they were not being read. Her enthusiasm and willingness to help came up against the natural laws of lethargy and inertia and ignorance that usually prevail in entrenched bureaucracies. They prevail, as Lea and I had found out just five years earlier, even in our schools. And here I must speak about our own experience: Since we were both involved in education at the school level in New York, Lea at UNIS and I at public and private schools, we had built up between us an excellent professional resource library of books on the latest educational principles and practices. On Lea's retirement as Principal of UNIS in 2001, we offered the books to some schools in Goa. Like Sujata, we too had imagined "that the books would be read, that teachers and administration would be grateful for the access." Instead, we were thanked profusely for the offer, but the principals we contacted pleaded that they had no space in which to house "so many books." The books would have cost a small fortune had they been purchased in India, and the fact that there were "so many books" should have been a positive factor; instead, it was used as a reason for rejection. Frustrated, we gave the books away to teachers in New York, who were delighted to receive them.
Sujata, head of an organisation that is aptly called Bookworm, refused to give up. In 2007 she began a programme in schools to demonstrate the usefulness of libraries, and between 2008 and 2010 she and her loyal group began to experiment with ways to prove to educators and teachers that at least weekly and monthly library programming will have some impact on children. By 2011 they were working on ways to introduce story telling into classroom teaching; this year they are ready to launch their Libraries in Schools Programme.
Let me say it straight off: Bookworm's programme is breathtakingly ambitious: the organisation plans in the current academic year to provide books, from pre-school to the grade 4 level, to select schools in four of Goa's talukas. As a safeguard, the books will go to schools where the principal as well as the staff have already understood the importance of having a library on site; Bookworm will ensure that there will be a steady supply of children's books, will set up classroom libraries, and will also arrange to have monthly, and in some cases weekly, story-telling sessions in class.
The most ambitious and advanced project is undoubtedly the one that will be launched in Aldona in conjunction with the Alban Couto Primary School Library Project, with Dr Maria Aurora Couto lending strong support. Two part-time specialists will provide library programming throughout the week at two local institutions: St Thomas Boys Primary School and the Auxilium Convent primary school.Flavia Ferrao Lobo and Isa Emmanuela Hoje will oversee the libraries in both schools, encouraging browsing and the borrowing of books, providing reading support to the children, and conducting story-telling sessions. As the pilot programme succeeds, other schools will undoubtedly want to follow suit.
Bookworm's Libraries in Schools Programme is farsighted, and visionary; it deserves to be encouraged in every possible way. I will be happy to discuss with Sujata the possibility of starting a similar initiative in a primary school in my own native village of Porvorim.