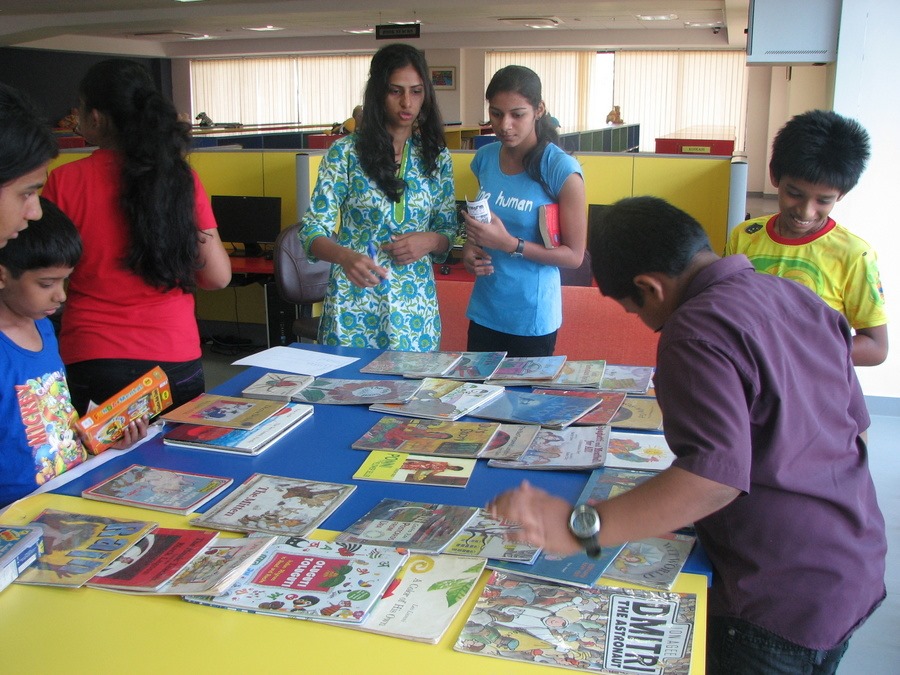 Info for Parents
Summer reading adventure at Central Library
Written by Shruti
It was a quiet morning when we walked into the children's section at the Central State Library on Monday. We looked around to spot quite a few kids, of varying age groups scattered across the huge room.
Our three full boxes of books and stationery (which we lugged up triumphantly up to the second floor), needed to be arranged and we started right away. The 'adventure' consisted of kids picking a random card with a hint, finding the book and reading it. It was Karuna's vision of providing children with an opportunity to expand their horizons with respect to reading.
Ten minutes after organizing, we had our first eight year old reader, Rohan. Since the book sections were arranged according to age groups, it was easy for him to pick up a card and start reading. A few teenagers followed suit. In a little while, there were more than ten kids picking a card, looking for their book, reading and even performing activities made for them. Kaiseer, a 11 year old made a list of things to take to the moon. He was extremely content with it which included a toothbrush and toothpaste as well!
We eased out the reading session into the story- telling session in an hour. We began by introducing ourselves, sang a couple of songs and then played a memory game. Not surprisingly, all the kids breezed through the game while I sheepishly admit I struggled.
As summer is in all its glory, and mangoes being one of the things associated with it, the story 'The Sweetest Mango' seemed to captivate everyone's attention. Also, the story had the theme of sharing, and it was heartening to hear the kids' views on the same. Neha brought the story and the characters to life with her vivid storytelling and relevant questions.
We ended the session with kids having to cut and colour their own mango, and write about a time when they shared something with someone. From sharing imlis to clothes, all of the kids had a lovely story to tell and we enjoyed reading each one of them.
We didn't really mind carrying the heavy boxes back down now!