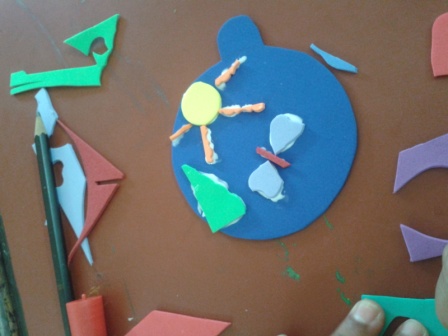 Activities
Art becoming craft….colour, fun, creativity, expression. Rather a good way to start the 2013 summer vacation wouldn't you say?!
The kids at the first of Bookworm's summer workshops; Art besomes Craft; certainly seemed to think so!
A workshop that happened on the 1st and 2nd of April, Art becomes Craft aimed at providing the kids with hands on exposure to art and crafting all under the skilled instruction of Prerna Neelavar.
Starting off the workshop, the kids got down to creating their own snakes and ladders boards and dice. The excitement with which we heard the following day as the kids came back and reported that they used their boards was adorable! Some Mums and Dads gave us that feedback as well!
The kids also got their hands all colorful with paint as they got busy with texturing. In a few minutes, 6 panels of base colours were worked upon with contrasting colours and patterns that were gorgeous, and yet somehow created with things one finds around the home. Sharpeners, pencils, wool, sketch pen covers, little fingers, shells….all were soon coloured with an array of paint.
A quick snip! snip! snip! later and these brilliantly colourful panels of design were converted into coasters. ….and the kids went ooooooooh!
The highlight of the day would surely have been the danglers the kids made. The conversation around the table as bits of foam were cut was all about what colours they could use and where the danglers would be hung!
The happy mess that was left after the kids were done was in itself a blast of colour! And surely the happy faces and excited banter is a good way to start the summer!